When come to winter, I always crave for hot chocolate. Speaking of it, I think
Ganache
has one of the best hot chocolate when it comes to thick texture and flavours.
Might consider to try out one of them for next visit.
Speciality Hot Chocolates - $6.00
All made with a 60% dark couverture
Friend of mine who are quite picky when comes to hot chocolate. When I introduced this to her, she reacted : "Wow, FINALLY I'VE FOUND THE BEST HOT CHOCOLATE IN THE CITY! "
Instead of getting the standard flavour, there is wide range of option you can choose :
Classic, Cinnamon, Chilli, Mint, Orange Cointreau, Winter Spice and Hazelnut.
Hm, I was thinking I might have to try Chili or Winter Spice. Don't you curious how the taste gotta be?
Both patisserie were sooooo irresistible !
Brownie Mousse Slice - $7.90
Rich dark chocolate mousse with a layer of anglais on dark chocolate sponge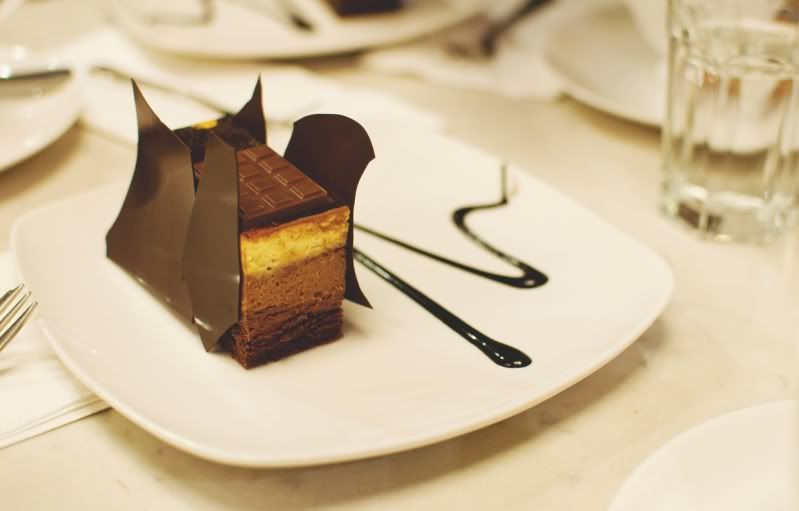 Triple Mousse - $7.90
3 classic chocolate mousse flavours on a flourless sponge base
It's very sinful yet addictive to crave for.

Ganache Chocolate Lounge
245 Collins St, Melbourne 3000. or 250 Toorak Rd, South Yarra, 3141.
Phone: 03 9650 8388 Phone: 03 9804 7485
Email: enquiries@ganache.com.au



Trading Hours :
Monday - Thursday (8am - 8pm) Monday - Thursday (9am -8pm)
Friday (8am - 10pm) Friday (9am - 10pm)
Saturday (9am - 10pm) Saturday (9am - 10pm)
Sunday (9am - 6pm) Sunday (10am - 8pm)